This time, we will tell you about important updates for our mobile users, the all-new Wizart Vision API, ceiling visualizer and also about one important feature for your conversion rates growth. Stay tuned 😉
Wizart can remind the users about the items in their shopping carts
A significant update for those who have their shopping cart integrated into Wizart visualizer. The user will see the pop-up notification inside the visualizer. This feature is designed to increase the conversion rates of our clients. 
Wizart is presenting a ceiling visualizer
Last year we noticed quite an unusual trend, the wallpapered ceiling. Although we thought that ceilings are the most boring and neglected part of the room, it turns out they can bring a major change in the overall interior design. 
The ceiling visualizer goes live in a few weeks, and after its release, Wizart will be the first AR-visualizer ever that can visualize floors, walls, rugs, and ceilings in one room. 
Want to book a demo now? Click here. 
Updates for our mobile app users
Wizart team has implemented a few changes to the mobile app to make it more user-friendly. Don't hesitate to try it out.  
Wizart Vision API is now available as a service.
Wizart Vision is part of the Wizart technologies. Due to this solution, the developers can harness the power of image recognition to build AI-powered apps fast.
You can upload interior images to detect, classify and reconstruct objects at them. If you have many images, you can process them in batch using asynchronous API endpoints.
Vision's features are thematically split between
Indoor Scene Semantic Segmentation which provides the ability to recognize dozens of classes in various combinations for indoor photography
Object Detection which determines the position and as an option count objects of some class
3D Room Reconstruction which makes it possible to obtain information about the 3D dimensions and positions of objects in the scene in the photo
Indoor Scene Analysis & Classification for camera's data determination to build and work with 3D and AR models
Wizart Vision is a service accessible using the REST APIs or SDK. For more information, see the Wizart Vision documentation.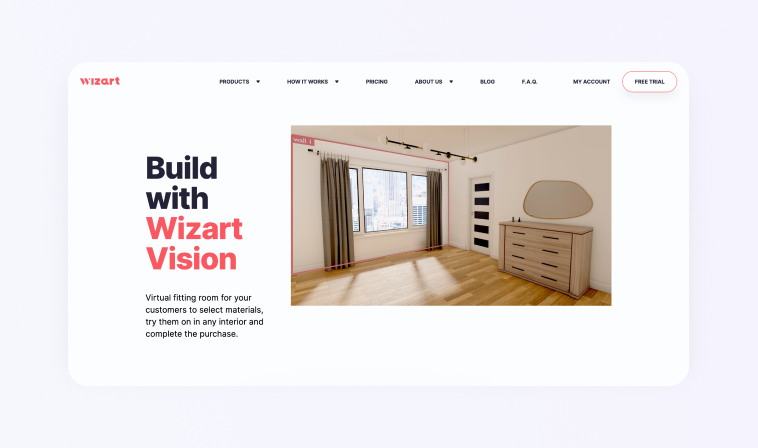 We visualize a wide range of products in 3D, e.g., Wallpaper, Murals, Borders, Paint, Tiles, Plaster, all Flooring types, Paints, and Ceilings. Please get in touch with us via the Help Center button below, in case you'd like to add a new product group to your Wizart Visualizer.
We strive to continuously enhance the Wizart products to ensure our users and their customers have the best possible experiences. Therefore, your ideas and suggestions on how to improve our products are always welcome!
Please Get in Touch using our Wizart Help Center button below.