We came back and are ready to update you on Wizart latest features. Catalogue filters, a few changes in a button design and additional Wizart features created to enhance your online performance. Let's go 😉
Apply different materials to the ceiling 
The Wizart team created an AR-visualizer that can show the ceiling products at their best. Apply wallpapers, murals, stickers, paints, wood panels and many more.

Are you interested in a ceiling AR-visualizer? Drop us a line, and we'll get back to you promptly. 
Filter the interiors in your catalogue
We made this feature with those who sell different types of products in mind. Your customers do not have to struggle with choosing a room set anymore. The Wizart algorithm will automatically demonstrate the interiors based on the type of product. 

Keep in mind though that this function will be displayed only in case you have products with 2+ surfaces included.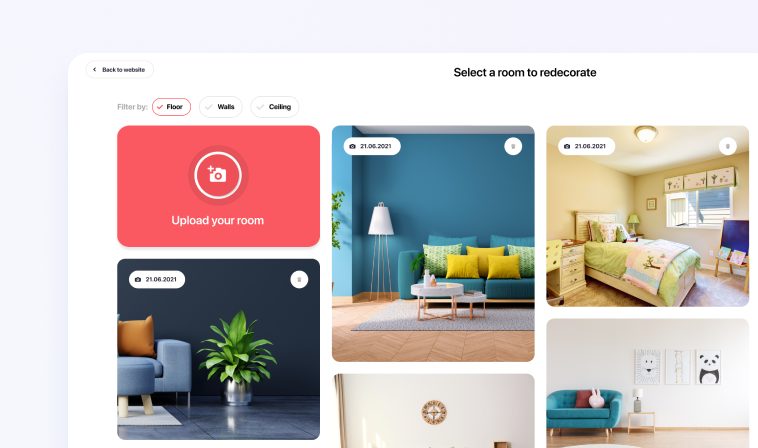 Rugs sellers, this feature will definitely please your shoppers! Now they can play around with the AR versions of your rugs. An important note: the function is available regardless of the screen resolution.  
We have updated the data info section 
Starting from now, your users will get more info about the products after the renders. After creating and downloading renders, the shoppers will be able to know detailed product info.   
Create enhanced content for your website easily
Struggling with creating rich content for your website? Wizart is more than happy to help! Create high-quality videos, 3D pictures, GIFs, AR presentations and more.